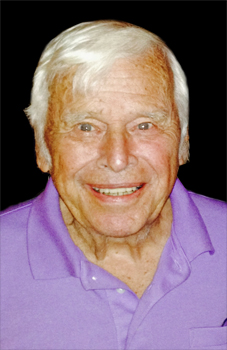 Vincent Raymond Markey
Houghton Lake, Michigan
Formerly of Saginaw
Passed away Tuesday, July 10, 2018 at Bickford Assisted Living, Lansing. Age 94 years.
The son of the late Ethelyn (Laundra) and William Markey was born July 8, 1924 in Saginaw, Michigan. He married Mary Eloise Davis, October 7, 1950. She passed away November 25, 1982. Vincent was a Sheet Metal Worker and a proud member of Sheet Metal Workers Local #7. Together with his wife, they owned and operated Mary Markey's Candlelight Inn at Higgins Lake. Vincent was a charter member of Holy Spirit Catholic Church, a member of the Knights of Columbus Council #8808. He was a member of the Houghton Lake Loyal Order of the Moose and the Fraternal Order of Eagles. He also was a member of Our Lady of the Lakes Catholic Church, Houghton Lake and sang in its choir. He loved to sing and dance, enjoyed gardening and was always quick to help family and friends with projects. Most of all, he loved to spend time with his family and winters in Hawaii.
Surviving are three daughters and their husbands, Krista (Kiki) and Rick Krause; Kendra (Kandi) and Mike Murray; Kara (Kari) and Mike Johnson; four grandchildren, Richard and Austin Krause; Kayla and Makenna Murray; two sisters, Delores Rutherford and Gerry Dangel; many nieces and nephews. A son, David Markey, and five brothers and sisters have predeceased him.  
The funeral liturgy will be held at 10:00 a.m. Tuesday, July 17, 2018 at Holy Spirit Catholic Church, 1035 N. River Rd. Saginaw. Rev. Andrew LaFramboise will officiate with burial in St. Andrews Cemetery. Friends may visit with family at the W. L. Case and Co. Funeral Directors, 4480 Mackinaw Rd. from 4:00-8:00 p.m. Monday where a Parish vigil service will be held at 7:00 p.m. Friends may then call at the Church from 9:00 a.m. until the time of the funeral liturgy. Those planning an expression of sympathy may wish to consider Hidden Harvest or the Food Bank of their choice. The family would like to extend a sincere thank you the staff and caregivers of Bickford, West Lansing for the wonderful care provided to Vince over the last two years.
www.casefuneralhome.com 

To send flowers or a remembrance gift to the family of Vincent Markey, please visit our
Tribute Store
.