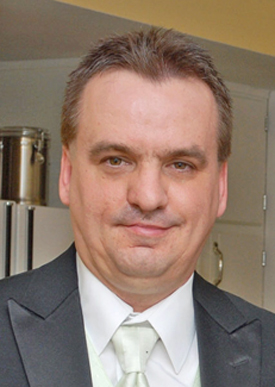 Freeland, Michigan
Passed away at home with his family by his side after a brief illness at the age of 49. Tim was born on April 14, 1969 in Saginaw, Michigan. He married Rochelle Marie Minnick on September 18, 2004. She survives him. Tim graduated from Freeland High School in 1987. He received his Bachelor's degree from Central Michigan University and went on to complete his Master's Degree in Business Administration at Purdue University in Indiana. Tim was a dedicated employee of Nexteer Automotive in Saginaw, Michigan, where he worked for over twenty years most recently as Purchasing Pursuit Leader. Tim was an intelligent and caring person who always put the concerns of others before his own. He loved the fall season, lively discussion, college football, and traveling the world. Tim was a loving husband and father and he cherished the time spent with his family, especially with his son at various sporting events and other activities.
Surviving besides his wife, Rochelle, are his son, Conner, age 12; his parents, Joyce and James Leaman, his sister and brother-in-law, Tami and Mark Wellington; his mother-in-law, Janet Dueweke; his brother-in-law, Randall Scott and Nannette Minnick; his sister-in-law, Robin and Gregg Petrimoulx; his best friend, John Twarozynski; several aunts, uncles, nieces and nephews;
The funeral liturgy will take place at 10:00 a.m. Friday, May 11, 2018, at Holy Spirit Catholic Church, 1035 N. River Rd. Saginaw. Rev. Peter J. Gaspeny will officiate with burial in Owen Cemetery. Friends may call at the W. L. Case and Co. Funeral Chapel, 201 N. Miller Rd. from 5:00-8:00 p.m. Thursday where a parish vigil service will be held at 7:00 p.m. Friends may then call at the church from 9:00 a.m. Friday until the time of the funeral liturgy. Those planning an expression of sympathy may wish to consider the American Cancer Society.www.casefuneralhome.com
To send flowers or a remembrance gift to the family of Timothy J. Leaman, please visit our Tribute Store.