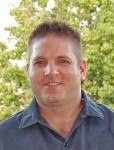 It is with great sadness that the family of James (Jim) Peter Jesselaitis announces his passing as a result of injuries from an auto accident, on Wednesday, October 24, 2018, at the age of 43.
Jim was born on May 9, 1975. He graduated from Swan Valley High School in 1993, and continued his education at Delta College and Eastern Michigan University. For the past 21 years he worked as a Millwright at General Motors (recently in Lansing) and formerly as an Ergonomics technician at Nexteer Steering Solutions. He was involved in UAW International training for unions. Jim truly lived life to the fullest and loved lending a helping hand and kindness to others. His extensive history of volunteerism over his young life is a testament to his commitment to serve others even through his own battle and recovery from cancer a year ago. He was proud to serve as a volunteer fireman with the Saginaw Township Fire Department for 5 years, and currently with the Richland Township Fire Department since 2012. Jim was an active member of the UAW Local 699 as a board member, past board chair, secretary & treasurer and UAW Local 652 as well as, the UAW International. He was involved in numerous local union functions and activities. Jim was also a past board member for the United Way of Saginaw County. He spent countless hours helping to organize fundraisers, lead community programs, and participate in events and activities through the United Way, Salvation Army, MDA (lock up program), Relay For Life, UAW Union holiday activities, Big Brothers and Big Sisters, Habitat for Humanity, and Toys for Tots. He also helped organize the "Pins for People" Bowl-a-thon to raise money for the less fortunate in the Tri-City area around the holidays. He earned many special awards and certificates for his accomplishments, including the Walter Campbell Community Services Award.
Jim was a devoted father, son, brother, uncle, and friend. Jim is survived by his beloved daughter, Brielle (her mother Christine Jesselaitis), his parents Tom and Karen S. Jesselaitis, sisters, Julie (Brett) Steele, Karen (Sherry Whaley) Jesselaitis, and brother Joseph Jesselaitis (Sandra Ewald, fiancé). Also, a special nephew and niece, Thomas P. Jesselaitis (Alyssa Strauss, fiancé) and Nicole Steele (Kyle Lash, boyfriend). Jim will also be fondly remembered by his aunts and uncles, Joan McCullagh, Patricia Freedman, Nancy Ureche, John and Mary Lou Dudock, and Joseph and Beverly Jesselaitis, and many cousins and close friends. 
Jim was an outdoorsman and enjoyed spending time at his cabin, boating, fishing, hunting, scuba diving, traveling, volunteering, riding his Harley Davidson, and spending time with family and friends. He will be deeply missed by his family, friends, and all who knew him. 
The funeral liturgy will take place at 10:00 a.m. Monday, October 29, 2018, at Holy Spirit Catholic Church, 1035 N. River Rd. Saginaw. Rev. Peter Gaspeny will officiate with burial in St. Andrew Cemetery. Friends may visit with family at the W. L. Case and Co. Funeral Chapel, 201 N. Miller Rd. from 1:00-8:00 p.m. Sunday where the Fireman's Memorial will take place at 7:00 p.m. Friends may also visit at the Church from 9:00 a.m. Monday until the time of the funeral Liturgy. In lieu of flowers, those planning an expression of sympathy may wish to consider the Richland Township Fire Department (1099 N. Hemlock Rd, Hemlock, MI 48626). www.casefuneralhome.com