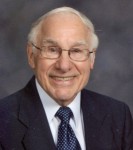 Beloved husband, father, grandfather, brother and uncle passed on to enjoy eternal life in God. He passed away on Sunday, September 9, 2018 at Edgewood Assisted Living. Age 98 years.
Edward Joseph Lichon was born December 4, 1919 in Saginaw, Michigan the son of late Joseph and Mary (Milczewski) Lichon. He graduated from Saginaw High School. He was employed at Shear Tool and Die for 40 years. He married Anne D. Owen in 1940; she predeceased him in 1961. He later married Margaret A. Thompson on January 6, 1968; she survives him. 
He was a member at Holy Spirit Catholic Church. He loved golfing, dancing, gardening and traveling to Lakeland, Florida to watch the Tigers during their spring training.
Besides his wife he is survived by his children, Kenneth Lichon, Keith (Georgia) Lichon, Janet (Jim) Campeau, David (Kathy) Thompson, 19 grandchildren, 30 great grandchildren, 10 great great grandchildren; and his sister Marian Wolinski. 
He was predeceased by his children Ronald Lichon, Barbara Denome, David Lichon; his five brothers; Francis, Leo, Stanley, Walter and John and his three sisters; Jenny Cierzniewski, Helen Robinette, and Sister Martha Lichon, SFCC. 
Funeral Liturgy will take place at 10:00 a.m. on Wednesday, September 12, 2018 at Holy Spirit Catholic Church at 1035 N River Rd. Fr. Peter Gaspeny will officiate with burial at 1:00 p.m. in Mt. Olivet Cemetery. Visitation will take place at W.L. Case and Company 201 N. Miller Rd on Tuesday, September 11, 2018 from 2:00-4:00 p.m. and 6:00-8:00 p.m. Vigil Service will take place at 7:00 p.m. Tuesday. Family and friends may then gather at church at 9:00 a.m. Wednesday until the Funeral Mass begins at 10:00 a.m. www.casefuneralhome.com